XCase - PreOrder Deals
THIS IS A PRE-ORDER ITEM Estimated ship date is currently March 2018
Shipping Notes:
* Shipping will be charged when you place your pre-order at the price to ship from our US location.
* EU countries, GB, China, Australia, NZ, will
NOT incur VAT
as we will be using fulfillment centers friendly to those locations. Also, due to the lower costs of using fulfillment centers in close proximity to those countries, we will
REFUND
the difference on your shipping charges when final shipping costs are determined prior to shipping.
*
Supported Countries
(At this time we only plan to offer shipping to the listed countries but please contact us if your country is not included and we will consider adding it at that time if we can arrange it)
United States

Great Britain

All EU Countries

Canada

Mexico

China

New Zealand

Australia

Japan

Chile
Description
Each unit's dimensions 14.88" x 3.5" x 2.75" (350mm x 90mm x 68mm)
Fits 17 Heroclix (Double the capacity with magnetic Insert on top)
7-36 D&D figures depending on base size
36 Paints
5-6 Marathon Medals *
Lots of Pins *
3 Deck Boxes
5 decks of unsleaved CCG cards
7 Die Cast Hot Wheels *
8 XWing/Star Treck Attack Wing 
Many other collectible Miniatures*
* Requires magnetic Insert and/or backer board to securely hold in place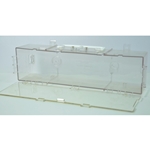 X-Case Single
AMG-80803-1
1.42
What's Included
1 X-Case of the chosen color
Regular Price: $12.95
General Regular Price: $12.00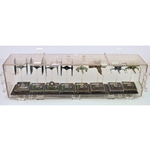 X-Case w/Magnetic Insert
AMG-80803-1
1.75
What's Included
1 X-Case of the chosen color
1 Magnetic Insert
1 Pack 3 x (2"x4") Flex Iron
Regular Price: $19.40
General Regular Price: $18.50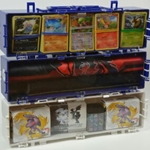 X-Case 3 Pack
AMG-80803-1
4.26
What's Included
3 X-Cases of the chosen color
Regular Price: $38.85
General Regular Price: $35.50 X-Case 3 Pack w/Magnetic Inserts
AMG-80803-1
5.20
What's Included
3 X-Case of the chosen color
3 Magnetic Inserts
3 Pack 3 x (2"x4") Flex Iron
Regular Price: $58.20
General Regular Price: $55.00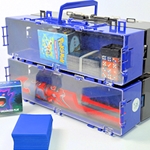 X-Case 4 Pack
AMG-80803-1
6.00
What's Included
4 X-Cases of the chosen color
Regular Price: $52.80
General Regular Price: $46.50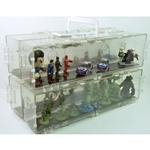 X-Case 4 Pack w/Magnetic Inserts
AMG-80803-1
7.40
What's Included
4 X-Cases of the chosen color
4 Magnetic Inserts
4 Pack 3 x (2"x4") Flex Iron
Regular Price: $77.60
General Regular Price: $72.00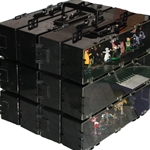 X-Case 12 Pack
AMG-80803-1
17.00
What's Included
12 X-Cases of the chosen color
Regular Price: $155.40
General Regular Price: $140.00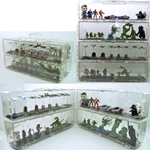 X-Case 12 Pack w/Magnetic Inserts
AMG-80803-1
20.30
What's Included
12 X-Cases of the chosen color
12 Magnetic Inserts
12 Pack 3 x (2"x4") Flex Iron
Regular Price: $232.80
General Regular Price: $218.00
---